Adrian Kiss at Easttopics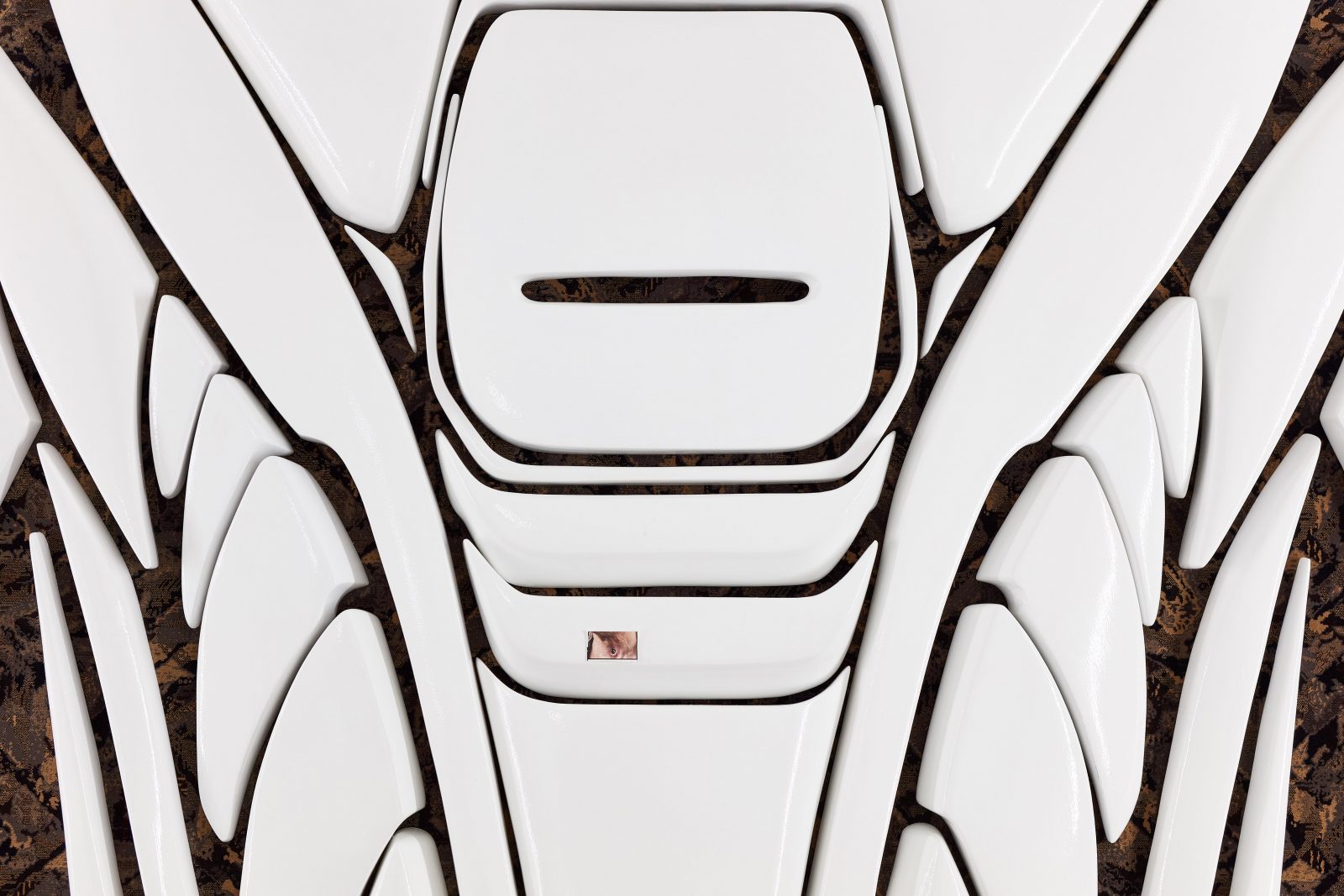 Adrian Kiss
Lethal Dose of Time
Easttopics, Budapest, Hungary
June 26 – September 19, 2020
Easttopics is proud to present Adrian Kiss' latest solo exhibition that features three new works created specifically for the occasion. As one of the most exciting figures of the young Hungarian art scene, Adrian Kiss has developed a boldly experimental approach to and use of different materials, especially natural/synthetic textiles and leather. His childhood being strongly shaped by the physical remains of Socialism, memories of and nostalgia for materials, textures, forms, colours and patterns of everyday objects of that period, as well as references to socialist industrial production became a central motive and source of inspiration in his work. Kiss branded his artistic production internationally with large-scale textile-based works and installations in the past years, an achievement for which he was the only artist living and working in Budapest to be featured in the trendsetter publication of Phaidon Press entitled Vitamin T: Threads and Textiles in Contemporary Art (2019).
For the exhibition Lethal Dose of Time, the young artist distanced himself slightly from his previous "design objects", and created two relief works on canvas and panel, as well as one quilted leather piece. These hybrid creations synthesize archaic elements, archaeologic references, biomorphic structures, components of futuristic design, industrial aesthetics, synthetic materials and high-tech motifs that stand as characteristic traits of his practice. The three pieces seem to form the different chapters of a narrative thread, which could be the discovery of a new form of life, the excavation and reconstruction of remains left by a civilization that could have been ours in a parallel dimension. Details evoking (exo)skeletons, weapon-like bones, signs of an unknown alphabet, living organic matter and shiny organs in formation compose a visual repertoire, a laboratory of alien origins that addresses directly our subconscious, raw, primary imagination.
Adrian Kiss was born in 1990, in Miercurea-Ciuc, Romania. He studied at the Fine Art Department of Central Saint Martins College of Art and Design in London. Adrian Kiss' works have been exhibited throughout Hungary, Slovakia and Czech Republic, including the FUTURA Gallery in Prague and the Trafó House of Contemporary Arts in Budapest. He also participated in group shows such as Orient at Kim? in Riga, Bunkier Sztuki in Krakow, and BOZAR in Brussels; Tronc Mental at CAN Centre d'art in Neuchâtel, Neuchâtel; and Abstract Hungary at Künstlerhaus, Graz. He lives and works in Budapest, Hungary.
Easttopics is dedicated to the promotion of the Eastern European contemporary art field. Working as a think tank for the Eastern European art communities, Easttopics is a genuinely interdisciplinary cooperative which goal is to draw the Eastern contemporary art field and the international art scene closer to each other. This cross-border project took form as an expanding on-line website and database until now. At last we have the chance to step out the online world and open our offline exhibition space. Easttopics focuses on the following countries: Albania, Belarus, Bosnia and Herzegovina, Bulgaria, Croatia, Czech Republic, Estonia, Greece, Hungary, Kosovo, Latvia, Lithuania, North Macedonia, Moldova, Montenegro, Poland, Romania, Serbia, Slovakia, Slovenia and Ukraine.