BCAA system at City Surfer Office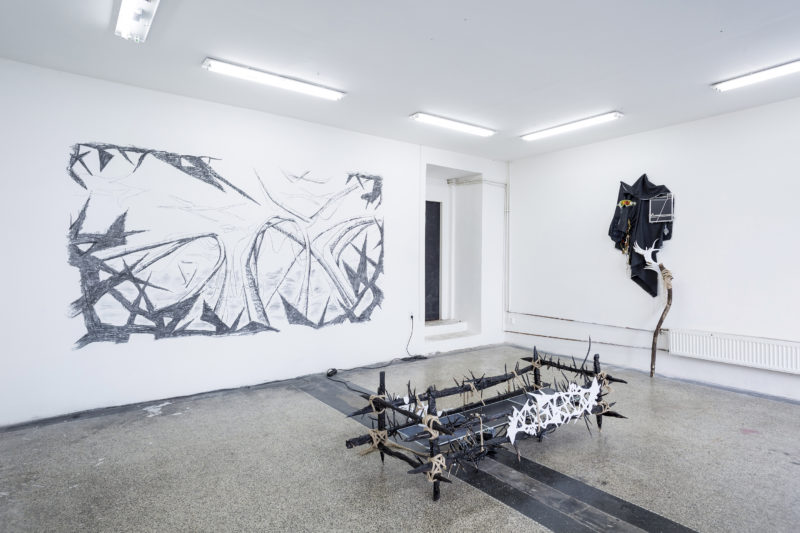 Right From Here Everything is Flickering
July 14 – July 28, 2018
Right From Here Everything Is Flickering is a moment of collective crystallisation of fantasies, a clash between necessity and possibility, a positive binding of threads in mutual caring, an attack of good tension on too tight structures, and above all, a portal for a shared journey against the flow of things.
—
The path through the sparse forest slips on fallen needles. Slanted beams of light stream between straight trunks and lay themselves down on the ground in golden speckles. Seemingly polished rocks lead to the pathway. The forest becomes more dense and dark while descending. High moistened grass grows as abundantly as stumps forced by an unknown force into the black ground. The tree trunks are covered with moss and raffish grey foam of lichens.
The divide between singular worlds is felt as an essential problem, which needs to be eradicated, although that gap is good and welcome in the heavy stride against the current. It is necessary to keep oneself sensitive to unity, mutual dependence and incorporation of both poles. Relations should not remain solely on the level of a powerful image, it is necessary to embody them during a fight for survival as well as in liberation. The vision and desire of wholeness provides a path and can hasten the arrival of new realities.
There is a certain chain of events emerging after all, in which one must believe, because there is nothing else. While looking carefully, one can spot all the bridges, transfers, screws and modules, and also the little parts, which connect mutually unrelated, singular and unrepeatable events. It is exactly these that hold the world together, they transport singular particles to the adjacent event, they transport them to the adjacent happening, rhythmically repeating certain action and bring about the encounters of the very same objects again and again, producing associative chains of things, which are alien to each other by their very nature.
Right from here one can see how everything is flickering, constantly changing and pulsating. Nothing can be grasped in totality, because everything disappears immediately, falling into small pieces and creating a new, equally unstable pattern, albeit the previous one seemed stable for a moment.
At dusk the scenery disintegrates into pieces of light scattered into streams and stains of light. Looking at the sky; there is more on the flats, functioning as a mirror and a lens. Gathering all the images into one and reflecting the earth as in an image, where everything happens at once with visible traces of events passed. A damaged transcription of the map of the world creates resistance. The ability to see in such a way.
– …and enterprises of great pith and moment, with this regard, their currents turn awry, and lose the name of action