Colleen Hargaden at Hunter Shaw Fine Art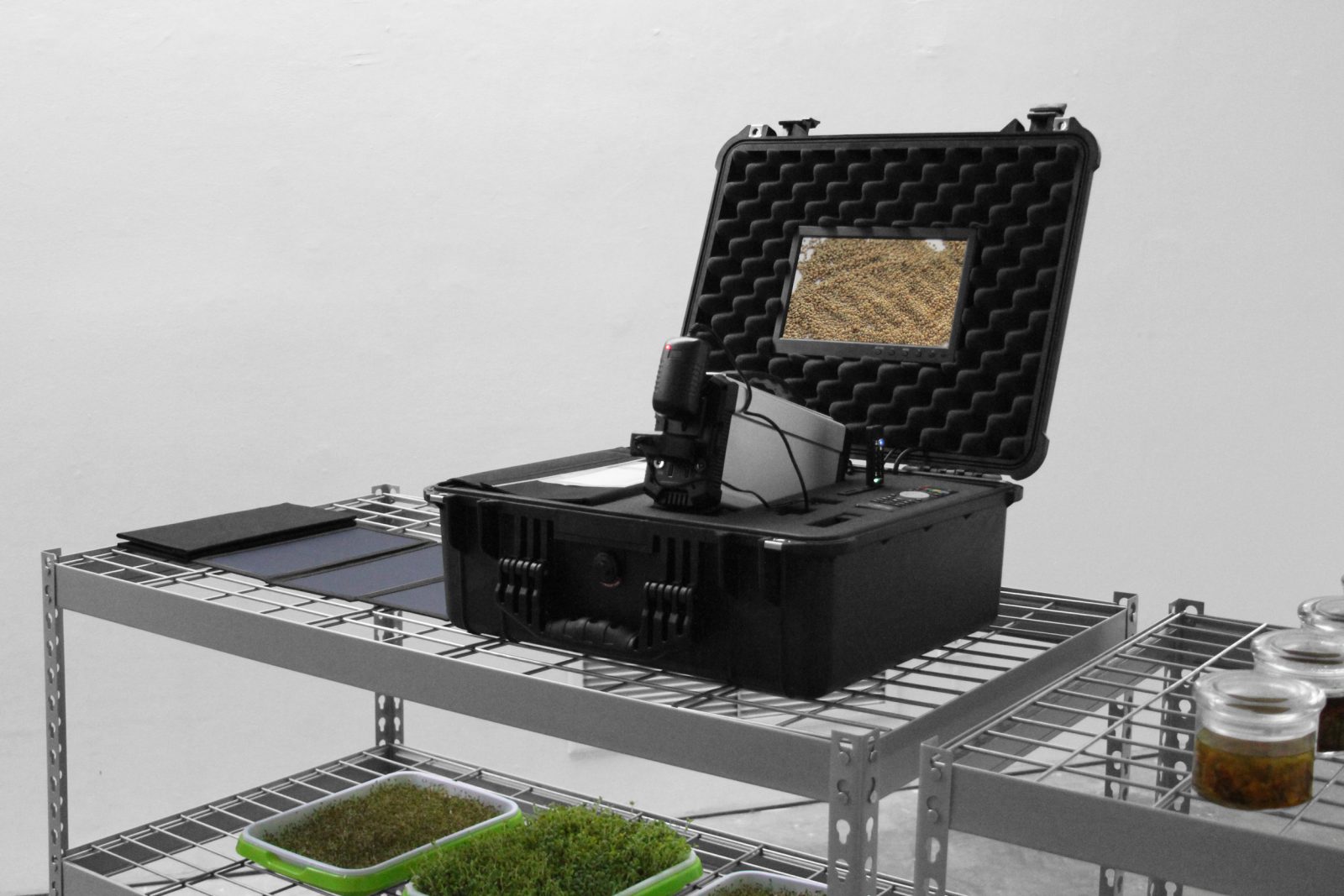 Colleen Hargaden
Strategies for Inhabiting a Damaged Planet
Hunter Shaw Fine Art, Los Angeles
September 12 – October 25, 2020
All Photography by Ruben Diaz
Hunter Shaw Fine Art is proud to present ​Strategies for Inhabiting a Damaged Planet​, a solo exhibition by Los Angeles based artist Colleen Hargaden. Utilizing the forms and techniques of contemporary "survivalist" culture and the DIY "maker movement," Hargaden's work responds to ongoing developments in technology, as well as the systemic social, ecological, and economic pressures that prompt their creation. Each project involves full participation in the collective knowledge base of one of these developments, be it the tiny house phenomenon, model rocketry, open source 3D modeling, or doomsday prepping. Underlying these subjects is the central question of our ability to create objects which will help sustain or obtain basic human necessities of shelter, land, food, water and medicine. In this way, Hargaden's sculptures and videos exhibit what theoretician Stephen Wright refers to as "double ontology," describing something which contains a primary ontology as whatever it is, and a secondary ontology as an artistic proposition of that same thing. In Hargaden's practice, each project is, or contains within it, works possessing the ontology of sculpture, video, or installation, and simultaneously, that of tool, kit, or learned skill.
This dual modality highlights the latent utility of Hargaden's works: they are static in the role of artwork or proposed system, but ready to be actualized as survival tools if needed in the future. ​Capsule One: How To Grow Sprouts (2018), is a resource kit which provides all of the necessities to perform the work's titular task. Inside a weather-proof Pelican case, a seed packet and manual are found alongside an instructional video which plays on a solar-powered monitor and media player. Installed on an industrial utility rack, the lower shelf displays the fruits of the process: sprouting trays lush with microgreens at various stages of growth. This work exemplifies the artist's practice at large, engaging the viewer in an open loop of pedagogy and meaning-making. Each project provides a take-away artwork which invites the viewer to re-make the work themselves: a step-by-step demonstration of a skill, a downloadable manual, a packet of seeds, or a diagram. This exchange is about sharing resources, and presents materials and methods that can equip the viewer and aid them in the making of things, returning knowledge back to the collective source it originated from.
The twin aspects of proposition and duplication are also evident in the two-channel video ​Reproducing "H2O" (2019), a twelve minute shot-for-shot recreation of Ralph Steiner's ​H2O (1929), one of the earliest cinematic documents of water, its surfaces and forms. In the current installation, a small monitor plays Steiner's original synchronized with a nearby projection of Hargaden's remake. Throughout Hargaden's version, the sequence is occasionally interrupted by moments of imageless darkness corresponding to scenes she was unable to recreate due to lack of access to certain bodies of water or infrastructural
updates to waterways in the 90 years since Steiner filmed ​H20​. These absences reiterate the theme of technological development and poetically underscore the precious finitude of water as a resource.
This subject reappears in ​Water Brick (Furniture) (2019), a series of seats and benches fashioned from stacks of interlocking water-storage jugs. Their monochromatic, rectilinear forms recall Minimalist sculpture while performing the dual function of furnishing and stockpiling the hypothetical doomsday bunker. This gesture slyly draws a connection between the possessive and macho attributes present in both survivalism and boys club Minimalism. Although the water bricks are exhibited full, the installation uses zero waste / recycled water, avoiding dead-end resource hoarding, instead acting as a conduit of redistribution. For this exhibition, the water will cycle back into use at local Los Angeles farms, Alma Backyard and Moonwater Farm.
Throughout Hargaden's practice a simultaneity of position arises from the contradictory nature of the subjects she pulls from. These paradoxes, despite their complexity, contain an unyielding drive to push forward and try again. In this they are possessed of the unique and generative qualities of the prototype. Hargaden's projects, in their ability to be shared with and remade by others, have the possibility to reach outward beyond individual use and autonomous boundaries of the studio, the gallery, or the institution. The production of meaning in Hargaden's work often manifests in unseen ways beyond what is physically in the installation, most concretely in her role as an educator. During the school year, Hargaden teaches middle school girls how to build rockets, design aqueducts, and other skills that could potentially shift the percentage of women working in engineering fields. Despite proposing ideas of what the future may look like (and what tools may help us prepare for it) Hargaden's work ultimately reflects conditions of the present, including our relationship to space, materials, energy, and resources. Hargaden's ​Strategies for Inhabiting a Damaged Planet question the ontological boundaries of art: what it is, isn't, can be, or may look like tomorrow given the economic and ecological circumstances of today.
Colleen Hargaden received a MFA in Film/Video from Milton Avery Graduate School of the Arts, Bard College (NY) in 2019, and a BFA in Fine Art from Art Center College of Design (CA) in 2015. Recent exhibitions include ​Say Ever Moves​, Bard College Exhibition Center, UBS Gallery, Red Hook NY (2019); ​Los Angeles Notebook,​ Jacob's West, Los Angeles CA (2018); ​Pilot,​ Elephant, Los Angeles CA (2018); ​Belly Flop​, Pool Party, Palm Springs CA (2018); ​Built-In,​ NAVEL, Los Angeles CA (2018); ​Tiny House (End of Build) solo exhibition, Deep End Ranch, Santa Paula CA (2016). Hargaden is co-founder of Roger's Office, an artist-run gallery in Highland Park, Los Angeles (2017-2019).