Dry Crust and Oceans of Liquid Matter at Horse & Pony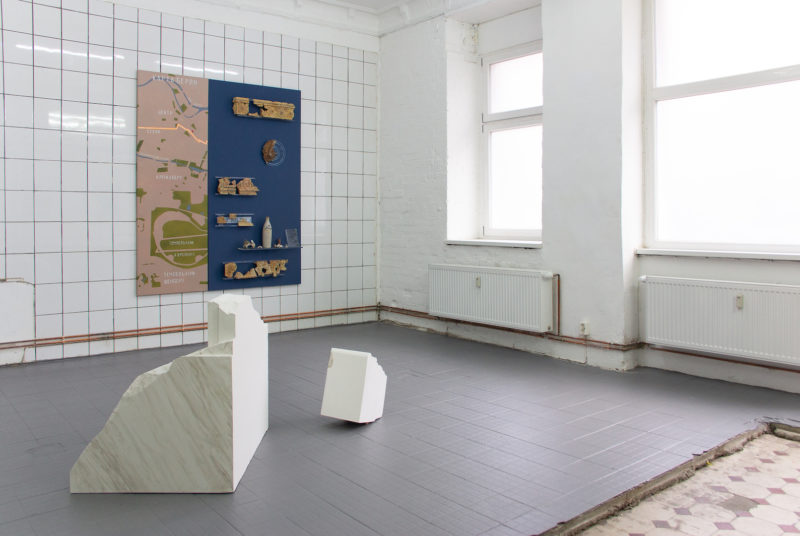 Dry Crust and Oceans of Liquid Matter
Anetta Mona Chisa & Lucia Tkáčová, Lucy McKenzie, Markus Proschek, Filip Rybkowski, Ariel Schlesinger, Michał Zawada
Horse & Pony, Berlin
Curated by Paulina Olzsewska
March 17 – April 14, 2019
The so-called revolutions of 1848 were but poor incidents — small fractures and fissures in the dry crust of European society. However, they denounced the abyss. Beneath the apparently solid surface, they betrayed oceans of liquid matter, only needing expansion to rend into fragments continents of hard rock. Noisily and confusedly they proclaimed the emancipation of the Proletarian, i.e. the secret of the 19th century, and of the revolution of that century.
—Karl Marx, Speech at the anniversary of the People's Paper, April 14th, 1856, London
The art object is the result of a complex process – it attains solid physical form, but functions as the embodiment of abstract ideas, associations, patterns of thought, and their transformations. In this exhibition, this creative process is compared to a natural phenomenon: the volcano. Its structure and way of functioning unites two physical contradictions: liquid, heated matter which is in permanent transition on the inside and a cooled, firm layer on the outside, which keeps this undefined substance within a solid framework. Working with this figure, Dry Crust and Oceans of Liquid Matter concentrates on the question of how artwork can be created in direct dialogue with (art) historical discourses. How are histories and theories of art formed by particular visions and imagination, which then influence our own perception and understanding, taste and style.
Furthermore, a volcano can be seen as a metaphor, especially in the context of the nineteenth- century revolutions and the social and political changes rooted in romantic literature and the Socialist movement. This comparison of the volcano and social revolution, which occurs beneath the solid surface of legitimized social constructs, appears in writings by Karl Marx or in poems by Adam Mickiewicz, Poland's 19th-century national poet & activist, a supporter of the Polish independence movement. The exhibition goes on to relate these historical uses of geological metaphors to the current context of social and political crises, and the permanent tension and interaction between these different visions of the future.
The content and structure of the exhibition are also strongly influenced by the space itself. The metaphor of a volcano, seen as a process of the transformation of matter, can be figuratively mapped onto the interior architecture of Horse & Pony. The narration, which begins in basement chambers of the space, reminiscent of lava tubes, and moves out and up into the more open, caldera-like upper level of Horse & Pony, works on several levels. It not only works with a certain understanding of the structure of creative processes, moving from an abstract, undefined idea to its final, hardened physical form; it also raises the question of how to understand the molten history of these reified objects, and how these histories influence participants' and viewers' understanding. Finally, we are left with the phenomena of revolution, seen as lava, which tries to escape and extinguish the hard structures we see and move amongst.