Florian Sumi at CAC Brétigny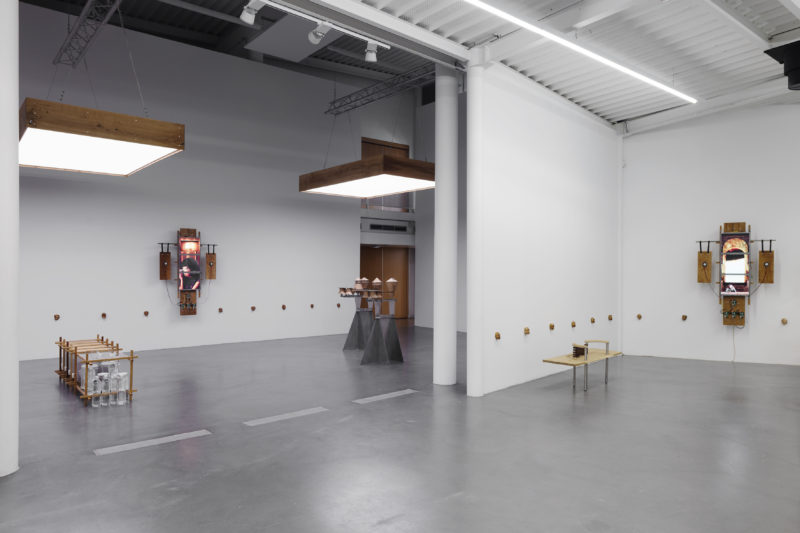 MEMBRAINS
with Emma Balimaka, Adrien Cruellas and Dragovan
curated by Céline Poulin
May 26 – July 21, 2018
A line of 72 figures wraps around us, showing a blank stare. Each of them displays the face of a human being or a spiritual entity that consciously or intuitively manipulated magnetic or energy fields, which might also be called exchanges of information. Morgane le Fay is seen alongside Doctor Jade Allègre, Thot, the God of the Moon, and William C. Levengood, the famous fake biophysicist and ufologist.
For his first major exhibition at an art institution, Florian Sumi is spelling out what has invigorated the whole of his work to date, driven his dances and gestures, and steered his diagrams and artifacts, yet remained unformulated until now, namely, that keen awareness of the flows that pass through us, those routes taken by the digital, organic, sensual, cellular or psychic communications that we employ daily.
At the middle of the venue, a metal and mineral desk, a footbath cabinet, manual clocks whose pulleys must be activated by hand, and a home laboratory that is fermenting microorganisms. For it is indeed a question of usage here. Maybe belief is important, but what we observe above all is the phenomenon itself. It is revealed in depictions of these waves in and around us. Forms clash and run into one another, from the diagrams produced by Spooky, the machine that heals by using frequencies, to animated runes that wiggle and jiggle about, not to mention artificial imagery of cells at work. And all around us, voices and images swell, soften, and slip unctuously through the portal of our ears. There is the hypnotic voice of Emma, who practices white magic, the recorded voice of Marcel, who transmits the secret of the universe, and the authoritarian voice of Fiona, who reads the system of the world by joining Darwin to ancient animism. And there is Florian's voice. He repeats these sentences, that a happy cell is the cell that communicates, renders its membranes porous, and opens itself to otherness to enrich itself by exchanging new information. Biologically the recipe for growth is the opening that points to the other. Like a mad scientist, Florian Sumi doubts, tests, and above all produces sumptuous experience machines—esthetic, scientific, anthropological experiences the reading of which is ours to determine.
— Céline Poulin
A graduate of Dijon's School of Fine Arts under the guidance of Marc-Camille Chaimowicz, Florian Sumi (b. 1984, Dijon, France) lives and works in Paris. He is represented by the Galerie Escougnou-Cetraro (Paris). Sumi was the artist in residence at Le Parc Saint-Léger between 2012 and 2013 and exhibited at the PM Gallery in Berlin, Favorite Goods in Los Angeles, and FRAC Pays de la Loire. Between 2015 and 2016, he took part in several group shows, including "New Babylon" at the Galerie Escougnou-Cetraro (Paris); "D'autres possibles" at Le Pavillon Vendôme Contemporary Art Center, Clichy; "Les Incessants" at La Villa du Parc Contemporary Art Center, Annemasse; and "Janus: do you pray for me?" at the Machete Gallery of Mexico City. In 2017, the Galerie Escougnou-Cetraro presents his first solo show. Several Florian Sumi's artworks are part of collections such as Frac Pays de la Loire, Cube—Centre de création numérique (Issy-Les-Moulineaux) and Collection Famille Servais.
Emma Balimaka: Born in Antwerp, Belgium, in 1990, Emma Balimaka is a Belgian artist of African descent. She lives and works in Brussels. She holds a degree in Fashion Marketing from the Art Institute of San Francisco. In 2011, she began working as an assistant for the Belgian pho- tographer Kurt Stalleart. Dissatisfied with the work of the professional make-up artists that photographers usually employ, she tried her hand at professional make-up in the field of fashion, which quickly became a passion for her. While the fashion world has always been quite present in her mind, it burst once again into her life in 2017 after she had a clear vision of the collection she had always wanted to produce. She practices magic on her own and eagerly follows everything having to do with the occult.
Adrien Cruellas: Adrien Cruellas was born in 1990 in Paris, where he lives and works. A graduate of Nantes's École des Beaux-Arts , he has been developing a reflection on the materiality of the digital object and its concrete presence in the Western world. Working almost exclusively in 3D modeling, he has created digital environments that are sites for interaction between the virtual world and the real one. He likes to work together with others, creating multidisci- plinary synergies (FabLab, marketing, botany, and so on), while expanding the number of technical approaches—both soft- and hardware—to the digital object.
Laurent Jardin Dragovan: Born in Paris in 1973, Laurent Jardin Dragovan lives and works in Paris. The artist studied at Paris's school of fine arts, where he experimented in several areas before tackling fashion. From 1993 à 1997, he worked in silk-screen (in joint undertakings that linked him with Speedy Graphito, Kiki Picasso and Eric Seydou) and illustration (for the magazines Dazed and confused and The Face), while also practicing painting and theater. In May 2000, he took part in designing leather-oriented costumes for the feature film Le petit Poucet by the filmmaker Olivier Dahan. In March 2001, under the name Dragovan he presented his first collection of leather shoes and customized jackets. He has worked with Haider Ackermann, Rick Owens, and Jean-Charles de Castelbajac.