Millian Giang Lien Pham at Prairie, Chicago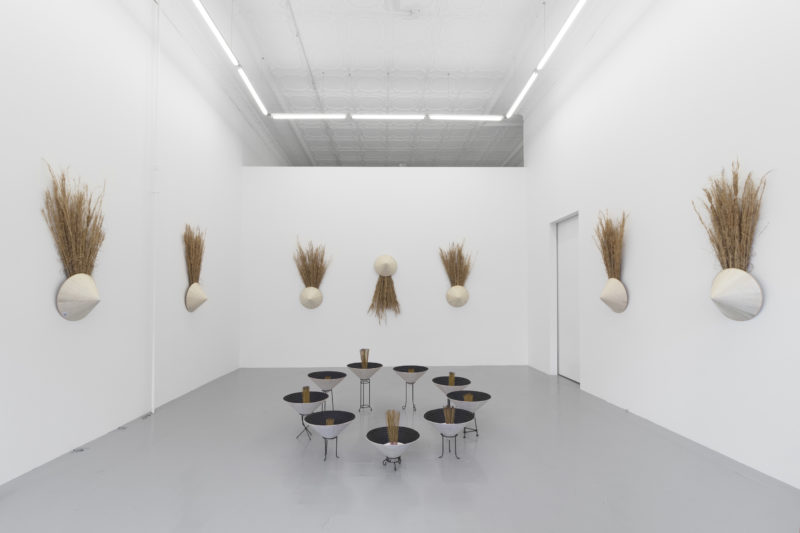 Millian Giang Lien Pham
Dislocated Labor
Prairie, Chicago
April 6 – May 12, 2019
I have adopted a different way of living than my parents.
I have transformed their methods of survival to suit current needs.
Everyday I see the figures of my past egging me on.
These anonymous familiars are old social constructions.
They say there is no room to fail.
There is no room to truly be.
The only path is the path of transformation.
But successful changes require keeping the root.
I have a different way of living.
I have transformed to survive.
After trampling in the muddy rice fields of Vietnam as a child then misreading product labels in the United States, Millian Giang Lien Pham went on to recieve her BFA in painting and printmaking from the University of Tulsa in Oklahoma and her MFA in sculpture from the University of Florida. Pham's art practice stems from her traumatic childhood memory of Vietnam and the necessary adaptation she had to make in the United States. Her current investigation cen- ters on the intersection of ideas about the body, cultural memory, and invisible inheritence. Her work incorporates sculpture, fiber, video, drawing, collage, and writing in larger installations which have been exhibited nationally and inter- nationally. In Summer 2017, Pham was an I-Park Artist Enclave Fellow in East Haddam, CT. In Summer 2018, Pham was a fellow for the Hambidge Artist Residency in Rabun Gap, GA and attended the ACRE Residency in Steuban, WI. Pham currently teaches studio art at the University of Alabama in Tuscaloosa.