Many Houses, Many Worlds by Office of (Un)certainty Research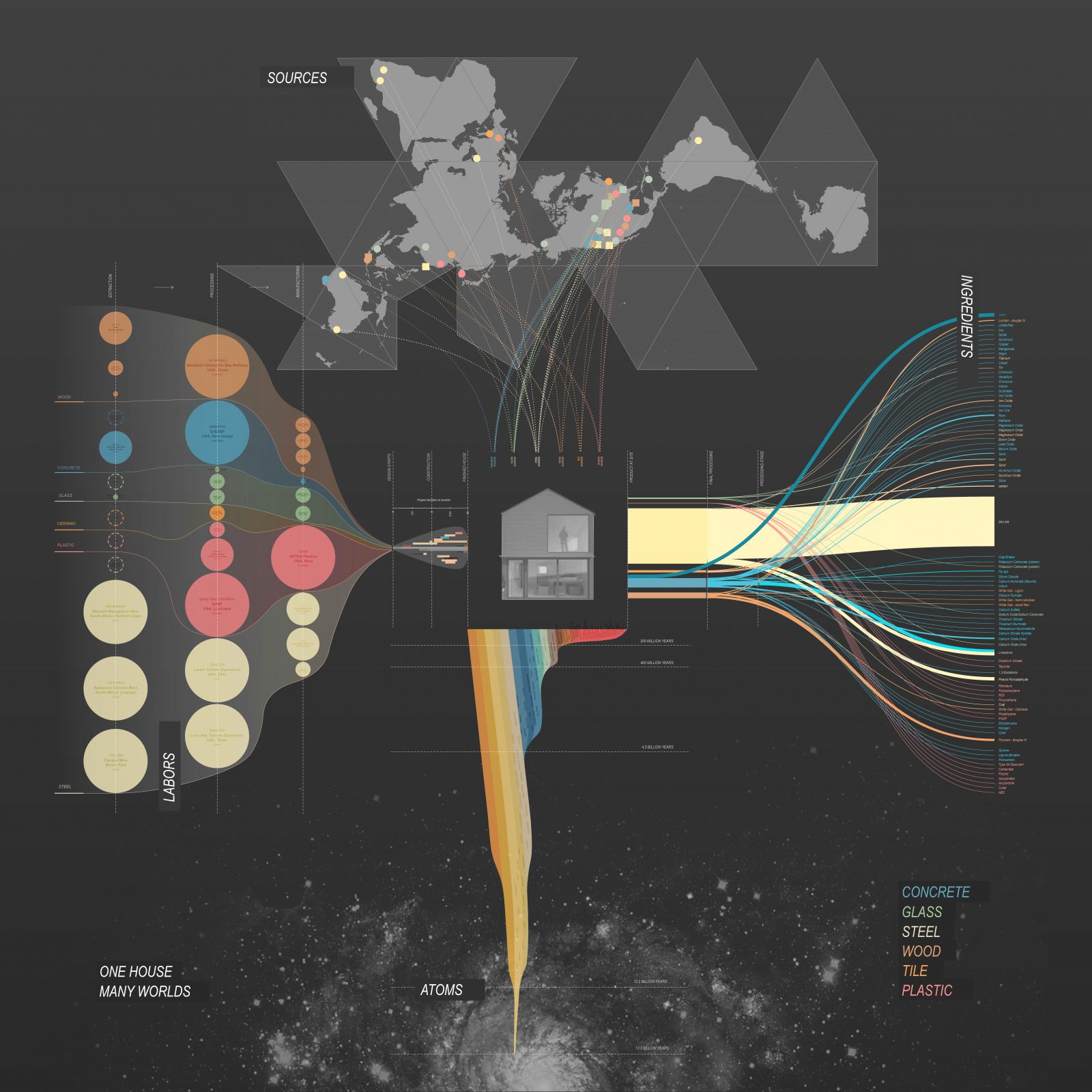 Office of (Un)certainty Research
Many Houses, Many Worlds
Launched September 28, 2020
The words, glass, concrete, steel and rubber and words that dull our senses to their constituent realities. They are not words that deliver to us even the beginning of a theoretical position regarding their role in world economies which means that we have to work against their lazy appropriation in our pedagogies. In fact, current epistemologies aim to separate the modernist aesthetic not just from its place in the world, but also from its 'world-making.' One House, Many Worlds, an online research project developed by OUR: Office of Uncertainty Research, studies a single house – located at 1119 25th Avenue East, Seattle, Washington, constructed in 2018 – and analyzes it along 4 vectors. Atoms: Ingredients: Sources: Labor.
Ethical sourcing of materials, complex calculations of the carbon footprint of products, and the energy 'rating' of a building, are some of the indexes that are currently used to measure the 'impact' of architecture. But, when we really started to dig deeper into the sourcing, production and making of things, from diverse epistemological perspectives, the story quickly explodes into unimaginable scales and distances that reached beyond current research capacities and even – one can say – beyond human comprehension. This project opens the door to these larger thresholds, not as the new, definitive calculator of 'impact' but as something like a barometer of our intertwined existence with the universe. Ultimately, the objective is to point towards a future agency of architecture and of course to a different way of teaching and learning about architecture.
Office of (Un)certainty Research is a research studio run by Mark Jarzombek (MIT) and Vikram Prakash (University of Washington). It is dedicated to rethinking architecture in terms of the emergent scientific, social and political parameters of the 21st century. O(U)R projects explore the entanglement between the planet and the cosmos.